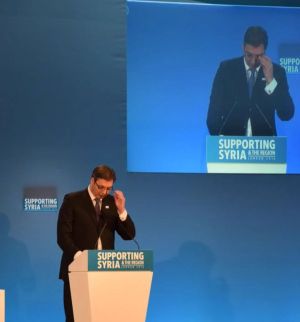 Prime Minister Aleksandar Vucic attended the Donor Conference "Supporting Syria and the Region", hosted by the British Prime Minister David Cameron, the Federal Chancellor of Germany Angela Merkel, Prime Minister of Norway Erna Solberg, Kuwaiti Emir Sheikh Sabah Al- Ahmad Al Sabah, and UN Secretary-General Ban Ki-moon.
Serbia will pledge €500,000 for Syria in 2016.
In his speech Prime Minister Vucic pointed out that Serbia was closely monitoring the development of the conflict in Syria and that it felt its effects on its territory.
The Prime Minister recalled that 600,000 people passed through Serbia last year on their way to EU countries.
He underlined that Serbia has made a constructive contribution to the solution of the crisis and has taken part in all activities under the auspices of the UN and EU.
The world does not need another crisis, especially not in the Balkans. Serbia is doing everything to maintain stability, in order to be part of the solution rather than part of the problem.