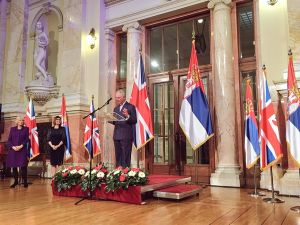 Their Royal Highnesses The Prince of Wales and The Duchess Of Cornwall paid a two-day visit to the Republic of Serbia on 16 and 17 march 2016 as part of their Balkan tour.
Following their meeting in the President's Office, President Nikolic and Prince Charles laid wreaths at the memorial ossuary to the liberators of Belgrade and the Commonwealth Military Cemetery.
Prince Charles later met with Patriarch Irinej of the Serbian Orthodox Church. In the residence of Princess Ljubica he attended a meeting with faith leaders of Orthodox, Catholic, Anglican, Islamic and Jewish communities.
Prime Minister of the Republic of Serbia Aleksandar Vucic hosted an official dinner in honor of Prince Charles and Duchess of Cornwall in the Guard House.
At the reception in the National Assembly of the Republic of Serbia, in his statement Prince Charles expressed his support and wish for further promotion of relations between Serbia and the United Kingdom and emphasized the importance of reconciliation and closer cooperation among the states in the region. For an integral text of his statement please visit here.
During the first day of her stay in Belgrade, the Duchess of Cornwall visited a family care project supported by UNICEF and Novak Djokovic Foundation.
On the second day, their Royal Highnesses travelled to Novi Sad where they visited places of interest related to cultural heritage, art and tasted local gastronomic delicacies.
The Royal Highnesses also visited the Matica Srpska Gallery while Prince Charles was a guest of the Kovilj Monastery.