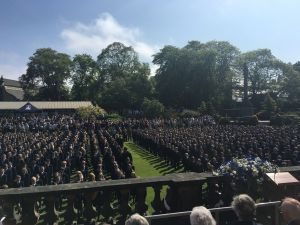 On 6 June 2016, a ceremony was held in George Heriot's School in Edinburgh to mark one hundred years since the arrival of 27 boys from Serbia. The event was attended by several hundred pupils, their parents, representatives of local communities, church and some twenty descendents of Serbian pupils. Also present were Ambassadors of UK in Belgrade and Serbian Ambassador to the UK.
In addressing the audience in Serbian, the school Principal Cameron Wyllie spoke about the Serbian boys and the time they spent in the school. Their descendants laid a wreath which was the first time that a Serbian wreath was placed alongside those from Australia, New Zealand, Canada and the USA. The Rt. Reverend Dr Angus Morrison held a service on this occasion.
In the National Library of Scotland, a historian Louse Miller held a lecture in the evening on how these boys came to Scotland and their efforts to adapt to life in a new country, embrace its customs and culture as they grew up, how they were educated and finally returned to Serbia.
In his address, Ambassador Keefe spoke of the contribution of British nurses to the war effort in Serbia during the Great War.
Ambassador Pribicevic thanked the hosts for their warm welcome and reciprocated the hope that the relations between the two countries will continue to develop.