The Embassy of the Republic of Serbia in London organized a formal reception on the occasion of the Statehood Day, attended by many representatives of the Diplomatic Corps, public and social life of the British capital, as well as the Serbian diaspora.
The Embassy welcomed about 200 guests, including the Dean of the Diplomatic Corps HE Khaled Al-Duwaisan, descendants of Karadjordjevic royal family - Jelisaveta Karadjordjevic, Filip and Danica Karadjordjevic, representatives of the UK House of Commons and House of Lords, including A. Bridgen MP, Chairman of the All-Party Parliamentary Group for Serbia, FCO representatives, a large number of Ambassadors and representatives of the Diplomatic Corps. At the opening of the reception, the Serbian and British anthems were performed by Nevena Pavlović Bridgen, opera singer, lead solist of the National Theater in Belgrade.
Her Excellency Aleksandra Joksimovic, the Serbian Ambassador, addressed the audience. After a welcome speech, she pointed out the importance of Sretenje Constitution and, reflecting to the history, presented a brief overview of the relations between the Republic of Serbia and the UK.
The guests were also greeted by Lord John Randall MP, a member of the House of Lords, who congratulated the Serbian Statehood Day and stressed his personal commitment to improving the relations between Britain and Serbia.
The Embassy of the Republic of Serbia in London is particularly grateful to the British Serbian Chamber of Commerce, McC WINES, NM lawyers and Case 3Dltd who helped organize the reception.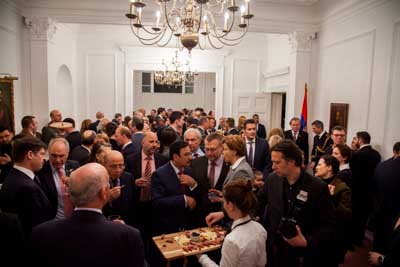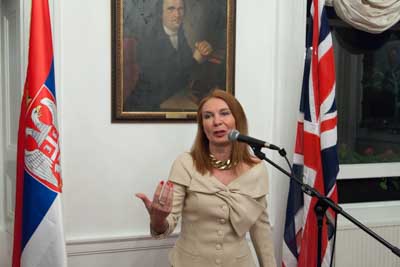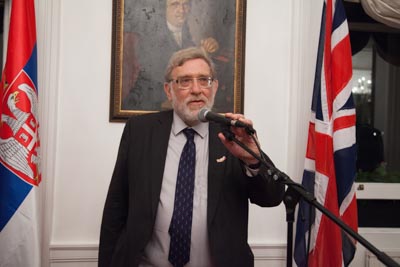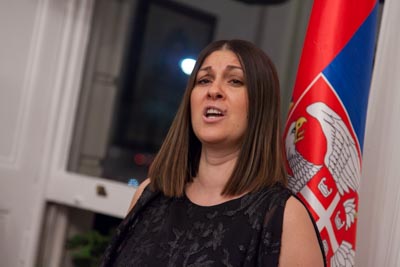 Nevena Pavlovic Bridgen, soprano, opera singer, lead solist of National theater