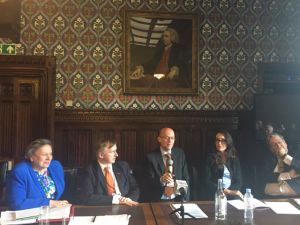 On 8 June 2016, a debate was held in the UK Parliament on cultural democracy and diplomacy, under the auspices of a non-governmental organization ProArt.
Researchers from Harvard, Cambridge as well as participants from Azerbaijan, UK, Yemen, Bosnia and Herzegovina and China spoke about the role of culture in present-day diplomacy. The debaters pointed to the rise of the extreme right in Europe and emphasized that it not only undermined cultural diplomacy but the very concept of multiculturalism. They also noted that cultural identity has been threatened in war-stricken areas around the globe.
Mr. Greg Hands, MP and Chief Secretary to the Treasury in the cabinet of Prime Minister David Cameron, greeted the participants.
Ambassador Pribicevic condemned the destruction of cultural heritage anywhere in the world singling out the problem of the destruction of cultural heritage in Kosovo and Metohija.
He pointed to the importance of culture in the promotion of Serbia's new image emphasizing that today's Serbia has been recognized for its vast cultural heritage, music festivals, Novak Djokovic and the world famous fashion designer from London, Roksanda Ilincic. Ambassador Pribicevic spoke about recently held ceremony in Edinburgh to mark the arrival of Serbian boys to George Heriot's School in Scotland and how they were educated and accepted there.
ProArt is a non-profit organization from London which promotes cultural diversity and education in general in a wide range of topics.